Do you have a youth who's needing more?
Look what I just overheard on the TJEd High discussion board:
"WOW! this semester has been the best ever! I have done more in this school year (and read more books in less than 3 months) than I ever have. I have gone from not trying to loving it!"
JUST THINK: What if, 3 months from now, I "overheard" your youth writing that? It could totally happen, if you…
---
Here are some comments we got from parents in the past few weeks: (scroll down for STUDENT comments!)
"Following true Leadership Education fashion, I have been doing TJEd High! right along with my kids. I read all the books (missing only a handful in the past three semesters), I listen to all the audios and do my best to keep up on the comments on the discussion board. Basically, I do everything short of submitting comments myself.
"I want to know what they are learning/discussing so we can do the same in our home, reinforcing those lessons/principles, pointing out real-life applications when we come upon them, and building a family culture that includes these lessons/principles.
"I am also enrolled in the TJEd Online Convention, MIC [Mentoring in the Classics] and have completed the Freedom Convention. I realize how important my role as a mentor is in my children's lives, especially since they are around me a whole lot (we homeschool). And lacking a complete Leadership Education myself (probably stopped somewhere mid-Scholar Phase), I am doing my best to stay at least a step ahead on "The Path".
"It's hard to describe in words the impact TJEd High! has made in my life, but I can compare it to some things you may be able to relate to and therefore can at least catch the essence of my feelings. If you have ever immersed yourself in something good and uplifting, you remember the way that opened your eyes, changed your perspective (major paradigm shift) and accelerated your progress toward the perfection we all seek. That has been my experience. These are such powerful ideas in our day!! All the truth taught in TJEd High! is not new. That is the amazing thing about all of this. Truth is truth. It always has been around.
"It's just that some people can organize and present it in ways that are so much more effective and efficient than ourselves. Then we get the wonderful opportunity to build on what they have left to us – on the shoulders of giants…. That is how the "cream" can rise to the top. Each person giving their all to fulfill their missions so others can take that work and start in a place much further ahead and therefore make even more progress.
"I'm sure you [the TJEd Mentor Team] have read a thousand books, but in TJEd High!, you offer a selection of the best ones that teach the principles you desire. I don't have to do that same work. I get the "cream" book selection and the "cream" of your thoughts that have been developed by the "cream" of other's thoughts etc.
"I struggle with discouragement at times because there are very few 'like-minded' people around me that I can 'discuss' with and I don't have a great support system. I have so much I would love to talk about, but there are so few who are interested. I think my kids feel the same way at times. I want my kids to have a true Leadership Education–but not just that. I want them to have friends and a support system of 'like-minded' people.
"Then I learned about TJEd High! and it was an answer to prayers. We have found a support system in the TJEd community. What a brilliant way to be able to bring this to everyone everywhere!
"The discussion forum is brilliant as well. My kids have made friends and are developing that support system. My kids and I enjoy your debriefs and midweek mentoring as well. Your energy and enthusiasm are catching and inspiring! I feel more energized, encouraged and hopeful after watching/listening. Adults struggle with motivation, self-doubt and fighting off those destructive voices in our heads sometimes just like our kids; and TJEd High! has helped me with those struggles more than I would have ever guessed.
"I have thoroughly loved all the books we have read. I love the leadership skills you are teaching the youth. I wish I had had TJEd High! when I was their age!! I am sure if I feel this way, there are a lot more that do as well. I appreciate all you do more than you can even imagine! Thank you!!
"I hope that wasn't too much of an earful! Have a wonderful day!"   ~A.B
---
"Little plug for TJEd High! My daughter loves it! In the beginning, she was in awe of all the great connections the mentors were showing her in the books. Now she's in awe that's she's seeing those same connections before she hears her mentors say them! She's learned how to read like a leader in such a short time and she loves it. TJEd High is the inspiration she needed to become a scholar. She really does study 8-10 hours a day and is bummed at night when the day is over. She has a new passion for education and it's rubbing off on her younger siblings too! Thank you DeMilles for doing this! ❤❤❤" ~K.C.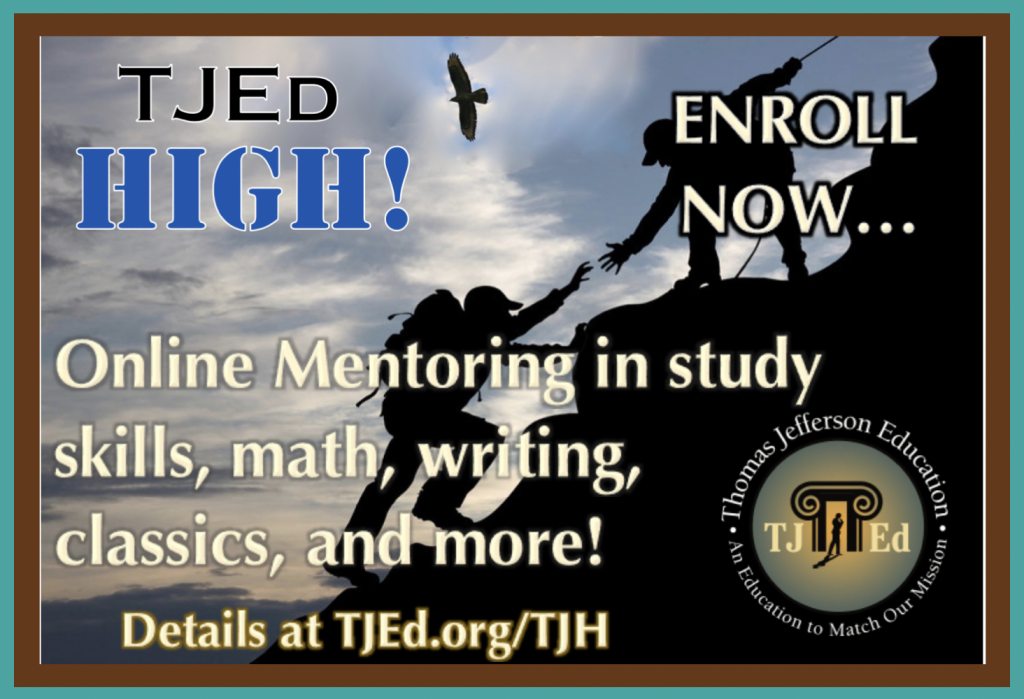 ---
"I have to share just how much my 13-year-old son is LOVING #TJEdHigh!! We went out to lunch to chat about our thoughts after reading TJEd for Teens, and he shared with me about how having an online community like TJEd High is making him feel so excited about getting a wonderful Scholar Phase & putting in the hard work he needs to excel at his mission. He also asked me for a resource that would help him improve his writing (something he has always avoided up until now), because he wants to communicate his ideas more effectively. Thank you, DeMilles, for working so hard to put this all together! ~J.M
---
"TJEd High for the win! Tonight my 13b suggested to my 15g that they watch the mentoring videos together–they are just so good they want to share them with each other! My daughter had me watch a bit of one of the videos, about how you shouldn't listen to the little voice that tells you aren't good enough. She then said, 'I just love watching Emma and Ian–they get so excited and it's contagious!' Over teeth brushing, my 11b commented, 'I can't wait until I can do TJEd High!' There have been several pivotal ah-ha moments for my daughter–things she's learned that will change her life. And we're only in week 2!! I'm so so grateful to you, Emma and Ian, for helping me in this parenting business–for helping her understand concepts that I've wanted her to internalize…it's the right place at the right time with the right people. My kids are inspired and so excited!"
---
"So, a mini-plug for TJEd High: I just finished reading The Giver with my 14 year old daughter (both of us read it in a couple of hours) and my 12-year-old daughter is now reading it, too. (It'll take her a little longer.) We would never have picked it up if it hadn't been on the TJEd High reading list for this week. My daughters and I have had great discussions already. My husband is reading it in his plane trip home from Japan and I expect him to join in when he gets home. The enthusiasm that is generated by being part of this group is infectious. The younger kids in the house are already looking forward to their scholar phases. Yay!" ~S.R.

---
And here are some student comments from the past few days: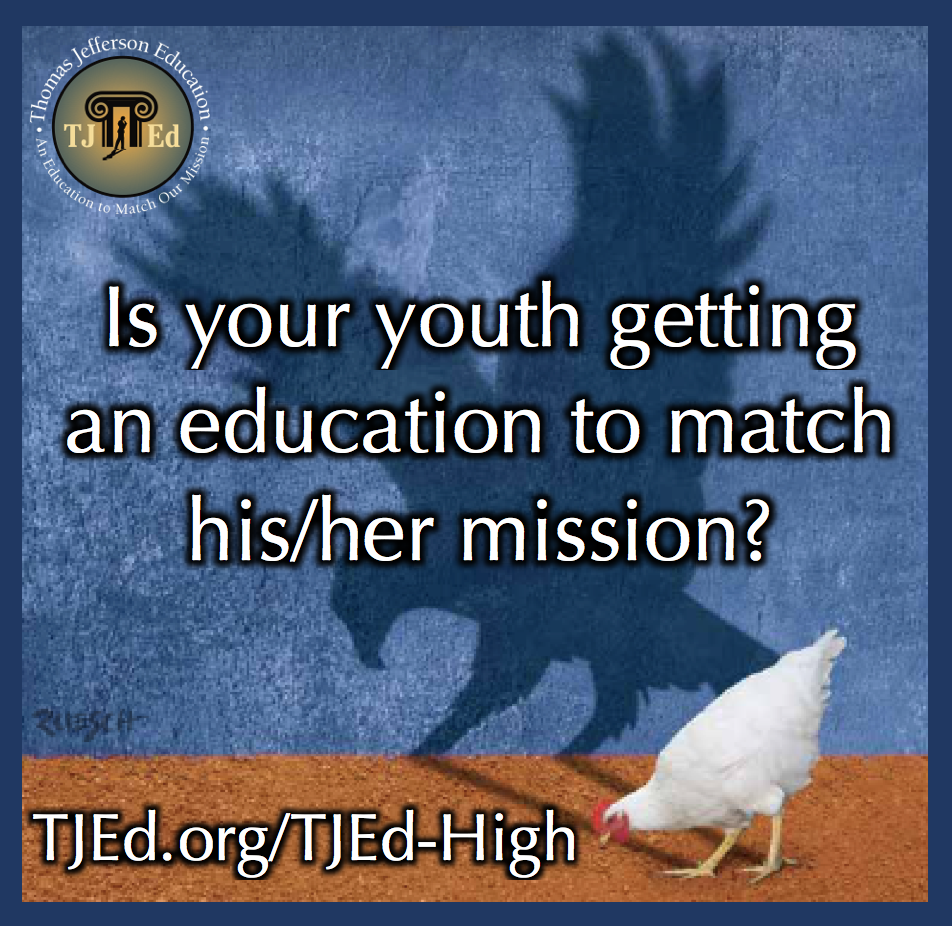 E.D. said: "I would say the most exciting, fun part of TJEd High is seeing myself grow in my education. I now know I can definitely read way better and faster, and learn from it and discuss it effectively better than I have than any other reading class I've taken." ~E.D.
S.C. said: I've grown up with TJEd, and I've always been intimidated by how important it is that I get an excellent education so I can help my generation make wise choices. My mom would tell me about how vital it was that I read classics so that I could get that education that would help me fulfill my mission in life. I was confused and scared. I didn't feel like I could make a difference. I didn't understand why I needed to read classics. Then my mom signed me up for TJEd High and it has literally changed me. TJEd High has taught me the importance of classics, and I've learned how I can receive that amazing education through those great books. I feel like I CAN make a difference, and I'm starting to understand how to get there. Now when I read books that tell me how much I am needed to change the world, I don't grimace. I know that I can do what I need to, and that I'm not alone. I've never felt more prepared to take on the world, and I know how to keep preparing. To close, I would just say that it's worth it. Every penny, every second of your time, every ounce of strength that it takes to really think. The things I've learned from just one semester I know I'm going to apply to my life in years to come. When you surround yourself with brilliant, wise minds, you start to think the same way. That's what this program does."
B.M. said: "I can honestly say I've become a better person since starting TJEd High. As I've implemented principles I've learned in TJEd High (such as keeping commitments, thinking deeply and greatly, expressing myself clearly, and being exact), those principles have affected other areas of my life, almost intentionally! I have seen more passion, excitement, commitment, and drive come into my life and I am excited to continue on my leadership education journey, fulfill my mission, and help others to do the same! I'd also like to give a big thank you to my TJEd High mentors. You guys helped me to believe in myself and keep trying when I wasn't doing so well. Thanks for all the time you've put into us youth, specifically in helping us get a quality education!"
This next one is long, but if you really want a "feel" for the transformation these students are experiencing, treat yourself to reading through it!
T.W. said: "Before TJEd high I had tried a bunch of different systems of education. I eventually came to a complete halt in my education, not the best decision I ever made. My mom was amazing, she was giving me so many incredible tools and books to further my education, but I had lost all motivation for it. I also didn't like to read, I loved stories and books, but the actual process and energy of reading, I hated. I only listened to audiobooks, and they weren't very deep books, just fun lighthearted ones that a leader wouldn't get much out of. I did a lot of crafts and projects, which is a part of education, but not what I really needed at the time.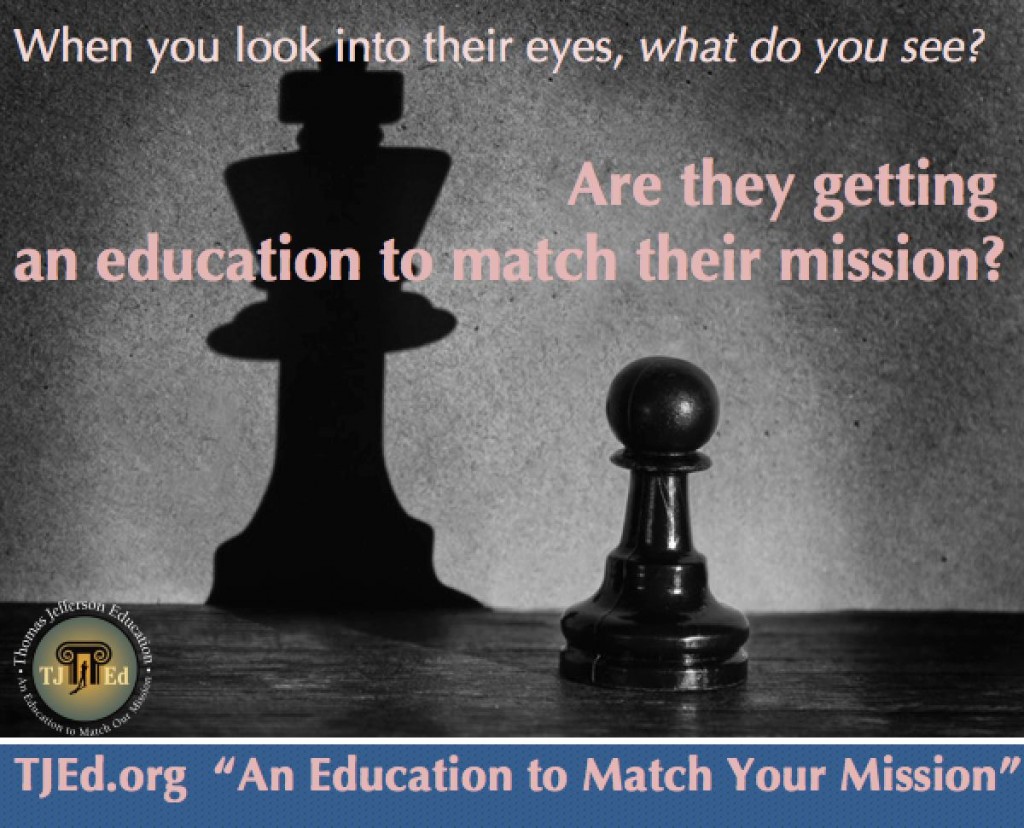 "When they first announced TJEd-high my mom saw it and asked me if I wanted to do it. I asked her to give me some time to think it over. A little later I watched the introduction video about TJEd-high and told my mom, "Sure I'll try it out." So she signed me up. A couple of friends of mine were doing it as well, which was pretty cool.
"They opened up the first week with a live mentoring video. That got me really excited! They talked about sleeping dragons (things that could hold us back) that we need to tame. They told us to be just 1% better and put in that 1% into it and it would make all the difference in our education. They have different levels of reading you can do, the first week I decided to do the hardest track, which meant I had to read Thomas Jefferson Education for Teens and a second book, which was A Thomas Jefferson Education. And I had to watch all the mentoring videos for that week. I also had to post on the discussion board ten times, and lead two discussions. I'm glad to say that I did it! And I kept it going through the whole semester, doing the hardest track every week. Some weeks were harder than others, especially with scheduling but I've made it work.
"By the middle of October, I was reading a lot! Two books a week, which I thought I would never have done, or been able to do. In the middle or near the end they announced two competitions. The first one was to submit a speech, music, art work, or anything you wanted to specifically about something you learned over the semester. The second competition was to read books from the Hero Education reading list, or the Thomas Jefferson Education for Teens Teen 100 list, and write the five underlining principles you got from the book or five things you learned from it. I mainly took that reading one into action. I went from two books a week, to almost a book a day, or every two days.
"There were times when I couldn't read because of conflicts, but my reading shot way high! I was learning and growing faster than I had thought possible. The only problem I found with it was that when I wanted to put a quote from something I read into a paper or something, I could find the book I had read it from! But it was never to hard to find the quote; that's the power of writing in your books! My dad talks about how he's really impressed with how much I'm learning every since I got into TJEd-high.
"I didn't know that what I had really needed was to just start my scholar phase, but I didn't really understand what that meant. Now I do understand what scholar phase is and TJEd-high has helped me find it. It's helped me grow so much over the last couple of months. I have such a strong passion for learning now and reading. I didn't think I would ever love reading, but I read till I felt like reading and it worked! I want to learn now, I want to read now, and I want to be a leader.
"TJEd-high has helped me in many more ways than I've mentioned here. Thank you to everyone who set up TJEd-high, and all those students who did it as well, we really did grow together. Thank you to especially Ian and Emma for doing all the mentoring videos and answering all our questions. After these last few months I really do feel ready to take on more learning, and later take on my mission and do all I can to become the person I was meant to be. I never thought I would learn so much about myself, by learning other things."
Is your family ready for TJEd High?
TJEd High takes your youth from where they are to where they want to be. Join us today!