Below is a sample week from April 12-18
April 12
1877: James Tyng, a Harvard catcher, wore the first face protector in baseball.
His wire mask, called a "bird cage," was designed by coach Frederick Thayer. It was patented and became a forerunner of today's catcher's mask.
What other sports use protective gear?
Why is it necessary?
Do you have rules regarding safety while you're playing (trampoline, bicycle, swimming, etc.)?
What special safety issues exist in the area where you live? (extreme weather conditions, predatory wildlife, crime, etc.)
How do these concerns affect your choices?
How do they impact family's rules?
Design protective gear (Go ahead! Be impractical, silly, outlandish..) that would have saved you from some mishap you experienced.
This Week in History helps you "Inspire."

Also on this date in history:
1961: First man in space.
Yuri Gagarin, a Soviet cosmonaut, became the first man in space. He made one orbit of the earth aboard the spacecraft Vostok I.
Resources:
Ideas for discussion and research:
What type of training and preparation do you think was required for Gagarin to go to space?
This is an achievement for which the Russian people are justifiably proud. What is your impression of the "propaganda" brochure?
Are you familiar with other historical propaganda from your own homeland? From other countries?
How do they differ? How are they similar?
What is propaganda?
Do you identify with Gagarin's feat as a human achievement, or as the special honor of a particular country? Why?
What other countries have space programs?
What advances in space technology are attributable to which countries?
Our culture tends to celebrate "firsts". Do you think the achievement of the second and sixteenth man in space is of lesser importance? Why or why not?
Is there a dream you wish to achieve in your life that requires your preparation now?
This Week in History develops cultural literacy.

April 13
1743: Birthdate of Thomas Jefferson
Born in: Albemarle, Virginia
Occupation: Farmer, Lawyer, Public Official
U.S. President: 1801-1809
Died: July 4, 1826 in Monticello Virginia
About Jefferson:
Spoke Latin, Greek, Italian, French and Spanish
One of the authors of the Declaraion of Independence
Founded Democratic-Republican Party
Amateur scientist, architect, inventor, and book collector
During his terms:
Ended much of the pomp and circumstance surrounding the presidency, including national celebration of presidents' birthdays
Authorized the Louisiana Purchase and the Lewis and Clarke expedition
Helped plan Washington, D.C. building styles
Tripolitan War against pirates in the Mediterranean concluded
Protested British seizures of American ships and seamen
Resources:
Books by and about Jefferson:
And DON'T miss this one:
Activities
Printables:
This Week in History develops research skills.


Also on this date:
1796: America saw its first elephant!
Eletelephony
Once there was an elephant,
Who tried to use the telephant.
No! No! I mean an elephone
Who tried to use the telphone.
(Dear me! I am not certain quite
That even now I've got it right.)
However it was, he got his trunk
Entangled in the telephunk,
The more he tried to get it free,
The louder buzzed the telephee–
I feel I'd better drop the song
Of elephop and telephong!
–Laura E. Richards
Resources:
Learn to fold this origami elephant from a dollar bill!
This Week in History brings you and your students Face to Face with Greatness.

Also on this date in history:
1902: Birthdate of Marguerite Henry
[Henry was one of the authors that most influenced my early life–and who continues to do so today. Even now I'm in the middle of reading "Brighty of the Grand Canyon" to my little girls! -rd]
Marguerite Henry's many children's books, the most famous of which are about horses, have won both awards and admirers for decades. They include the 1949 Newbery Award winner, King of the Wind, and Misty of Chincoteague (1947), both illustrated by Wesley Dennis; and Mustang, Wild Spirit of the West, illustrated by Robert Lougheed (1971).
Have you heard or read a story by Marguerite Henry? Today is a good day to begin a read-aloud from one of the following titles that are sure to be found in your local library:
Many of these are novelized accounts of actual horses. I think I must have read every one of these a dozen times as a girl!
This Week in History exposes your child to new ideas and areas of learning.

April 14
1828: American Dictionary of the English Language
On this date Noah Webster completed the American Dictionary of the English Language after more than 20 years of work. The original dictionary contained nearly 70,000 entries, including 12,000 words that had never appeared in a dictionary before.
Resources:
Ideas for discussion and activities:
Dictionaries come in many types with a variety of emphases and styles. What do you suppose is the difference between a "descriptive" dictionary and a "prescriptive" dictionary?
People consult a dictionary for a variety of reason. Can you think of five? (e.g.: spelling, syllable breaks for hyphenization, parts of speech, pluralization, word origin, pronunciation, synonyms/antonyms, usage in a sentence, etc.)
Read the introductory pages to a dictionary.
Compare the entries of five words in two different dictionaries. What differs? What is the same?
Play "Liar's Club": have a "judge" select an obscure word from the dictionary. Three panelists receive a slip of paper with the word. Only one paper also includes the definition. The panelists then tell their version of the definition, and a "jury" votes on who has the correct one.
In a large (the 1828?) dictionary, analyze three entries, and label in order the bites of information the entry provides, and their purpose.
– See more at: https://tjed.org/2013/04/apr-12/#sthash.vdgf7pbW.dpuf
This Week in History helps you mentor your students in the classics.

Also on this date in history…
1865: Assassination of Abraham Lincoln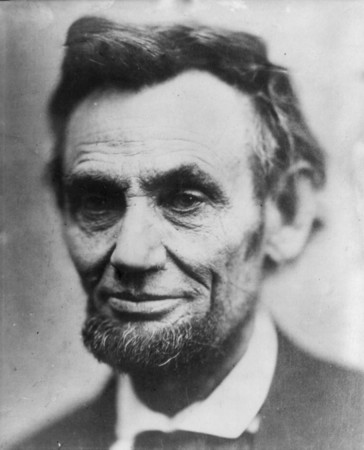 John Wilkes Booth shot President Abraham Lincoln on this date.
What motivates assassins?
President John F. Kennedy, Senator Robert Kennedy, Governor George Wallace and President Ronald Reagan were all victims or would-be victims of assassins in recent history. Why do you think such violence was directed at these men?
Clip one on "assassins" (where did the word come from?)

Clip two on "assassins" (why do they want to kill us?)

I highly recommend the episode of TV series West Wing that aired a few days after the 9/11 attack: "Isaac and Ishmael". (Currently available on Netflix streaming, as well as on Amazon Instant Video – free to Prime members.) It's some thought-provoking commentary on the issues at the heart of much of the terrorist threats today. Whether you are religious or secular, liberal or conservative, I think there is great benefit in considering the dialog in this absolutely stunning presentation. Probably heavier than a small child needs, but great for children who enjoy discussing with you on important, real-world topics.
Also on this date in history:
1890: Pan American Day
On this date, all the independent countries of the Western Hemisphere resolved to form an organization dedicated to peace and cooperation. Known as the Organization of American States (OAS), it is today the oldest international organization the world. Pan American Day, first observed in 1931, provides students with an opportunity to learn about countries in the western hemisphere.
Resources:
Make a flag display
Make a meal with elements from various countries of the OAS
Prepare an OAS geography trivia game
This week in history instigates discussions and projects that expand your child's wisdom, understanding and application of the things she learns.

 April 15
1452: Birthdate of Leonardo da Vinci
"I have been impressed with the urgency of doing.
Knowing is not enough; we must apply.
Being willing is not enough; we must do."
When the name Leonardo da Vinci comes up, one immediately thinks of his great achievements as a painter and sculptor.
These include:
The portrait of Mona Lisa, which hangs in the Louvre Museum in Paris, France,

and
The Last Supper, a fresco, in Santa Maria delle Grazie in Milan, Italy.

But da Vinci's interests ranged widely. As a scientist he is famous for anticipating important discoveries about blood circulation, the special functions of the brain, and several modern inventions such as the airplane, tank, submarine and canon.
He was born in the mountain village of Vinci, near Florence. He died on May 2, 1519.
Resources:
Also on this date in history:
1912: The sinking of the Titanic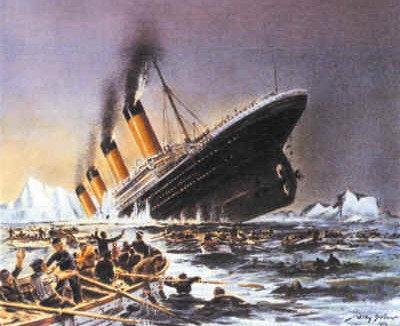 The Titanic, a large, lavish, "unsinkable" boat, sank after hitting an iceberg in the North Atlantic, kiling 1,517 passengers because the ship had not carried enough lifeboats.
On September 1, 1985, the Titanic appeared again in the headlines, when a French-American expedition led by Dr. Robert Ballard discovered the legendary lost ship sitting proudly upright on the ocean bottom, 2.5 miles below the surface.
Resources:
Ideas for writing or discussion:
Have you ever had an accident or problem that you weren't prepared for (even though you were warned)?
Why do we sometimes prefer to believe that the things we're warned about aren't likely to happen?
What types of things do people do to prepare for things that are unlikely to happen?
Why do they do these things?
When is worry helpful?
When is it unhelpful?
Is there anything you or a family member does differently now than before some misfortune or accident?
Why the change?
This Week in History saves you time and frustration, and builds your mentoring confidence.
April 16
No Spoiler Here. I'll tell you what today is after we've solved the riddle:

Though it can take years off a life
and affect the heart,
I can turn everything upside down while making it right.
I am deadly contagious;
Everyone wants to see me…
What is "it"? What am I? (The "it" is defined here; stay tuned for the "I"!)
Today is National Stress Awareness Day!
(Not coincidentally, the day after taxes are due…)
What is stress?
What stresses affect you personally?
Individual members of your family?
How do you cope with stress?
Can you think of three healthy ways to deal with stress, and three unhealthy ways?
What illnesses and other risks are related to stress?
Do something today to relieve stress–yours, or somebody else's
Enjoy this 16 minute award winning movie "Validation" – sure to put the concerns in perspective, put a smile on your face and a spring in your step. And remember…SMILE!
Are you feeling stressed today? If so…
Now, the "I":
SMILE!
First get into a comfortable position.
Get a healthy treat.
Now contemplate your blessings: you could be doing this…
We all miss our mark somedays…
so smile…