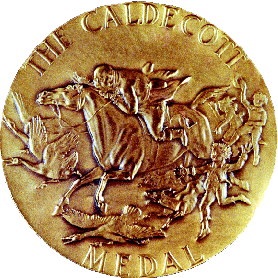 If you love not only a great story but high-quality illustrations, check out these Caldecott award winning titles. Some of my most treasured memories of books from my childhood are represented here: Where the Wild Things Are, The Little House, Make Way for Ducklings, the D'Aulaire Abraham Lincoln, Madeline's Rescue, Song of the Swallows, and so many more!
These are the type of books that you and your children (and grandchildren!) will want to have readily available in your home. As I mentioned here, having high-quality resources makes all the difference. The artwork in these books is truly classic.
High quality illustrations facilitate a more meaningful and multi-layered experience, and a deeper bond with the story. For all these reasons, we tend to return to such works over and over again–gaining more from the experience each time! The kids of all ages in our home (include me in that number) love these.
Because of their enduring value, these titles are usually very easy to find in your library; amazon links are provided for your convenience as well, if you want to build a family library of classic storybooks..
[Purchases originating from these links result in a portion of amazon's profits being paid to tjed.org, so when you shop amazon, please start here! Thanks so much for your support.]
2021
2020
2019
2018
2017
2016 
2015 
2014 
2013 
2012 
2011
2010
2009 
2008
2007
2006
2005
2004
2003
2002
2001
2000
1999
1998
1997
1996
1995
1994
1993
1992
1991
1990
1989
1988
1987
1986