Featured Articles:

TJEd NEWS:
For Adult Workshops and concurrent Youth Forum and Love of Learning Children's Activity Center, there's just nothing that compares with being in the same place with over 1000 other TJEders, many with their spouses, youth and children in tow! Inspiring speakers, educational classes, and a social experience that has no equal. Come join us at the TJEd Family Forum!
Last month I posted a query on Facebook to see what past participants might say. In just a few minutes my inbox was filling up with responses! Here's a sampling:  READ MORE >>
******************
Featured Article:

I Read an Old Book Today
by Oliver DeMille
I started an old book today. Actually, I didn't get very far. A friend found it in an estate sale and sent it to me. It was printed in 1882, and written in the flowing style of that time period.
As I thumbed through the book before reading it, I found several old newspaper clippings tucked into the pages. One was half a page from The Chicago Daily News, dated March 20, 1941.
I thought of that era in American history, just nine months before Pearl Harbor, but innocent in the calm before the coming storm.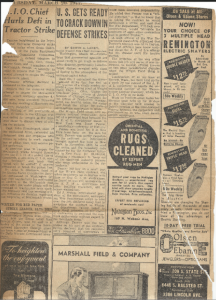 I opened the folded pages of the old clipping, which had become brown over time and left ink marks on the pages of the book.
I carefully read all the articles, editorials and ads. I felt like an anthropologist studying a foreign culture, except there were many familiar themes.
The Republicans and Democrats, it turns out, couldn't seem to agree on much and were constantly attacking each other. Reports of war abroad painted a negative picture of world events.
There was an article against big labor and another against big banking. An ad offered "Multiple Head Remington Electric Shavers" for $12.75 or just 50 cents a week.
When I continued perusing the book, I found a small card that must have been delivered with a bouquet of flowers.
Written by hand was the following message: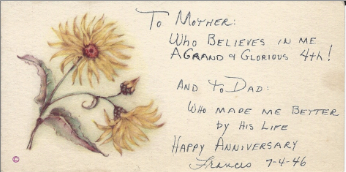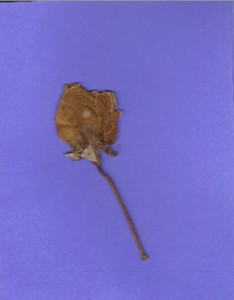 It made me all the more fascinated with this long-ago family that they chose to be married on July 4th.
It made me wonder about these people, and of times long past. Tucked in another page I found a dried flower. The reader must have loved beauty.
It is big book, and there were more treasures. Then, tucked between pages 536 and 537 I struck gold. In a clipping from The Chicago Daily News dated April 5, 1941, an editorial wrote:
"Capt. Charles de Gaulle in 1934 wrote a book that might have changed the history of the world, had anyone paid any attention to it. But no one in 1934 cared much about a book called Toward a Career Army written by a little-known French captain. Now the same book, because its author is leader of the Free French forces, is first translated as "Army of the Future"…but too late. General DeGaulle's 'Army of the Future' is already the army of the past. For it is almost an exact description of the tactics employed by the German Army against France…"
If only people had paid attention to the book before it was too late.
There are such books today. And they are ignored in the same way. Will a future newspaper (or whatever replaces newspapers) catalog what great things could have happened if more of us paid attention to the fine print of freedom?
Will a future reader find such clippings in some old book? Will books even be part of our future?
I quit skimming the book and took the time to write this article up to this point. Somehow I sensed that this was an important moment.
I was astonished when I returned to the book as I quickly found another clipping (undated) with an editorial that said:
"The Depression years forged new values in American life, and the writer as social thinker—rather than as imaginative artist—became our symbol of intellectual maturity."
The article went on to ask if our advanced technology was actually helping our society progress, or if in fact we were in too many ways declining.
The article cited increasing crime rates, divorce rates, labor disputes and housing shortages as examples of worsening societal ills.
It concluded by recommending a new book, Technology and Society by S. McKee Rosen, with these words:
"Unless the American public turns its gaze from insipid [entertainment] to books of this type, American democracy will remain impotent…"
Interesting. These themes are still relevant. They are, in fact, central to the future of our society, freedom, prosperity and culture.
I go back to the book, searching each page for more treasures from the past. After the third time through, I give up. I guess there are no more. But I give it one more try, this time carefully turning each page. It takes me half an hour to get to page 189, because I keep reading quotes from the text.
I love it when past readers have underlined sentences or circled paragraphs. I find it almost impossible to skim past them without reading whatever somebody deemed worth marking. It's like having a conversation about the book through some time-warping texting device.
By the way, this is a great book I'm skimming. I mean, I haven't read it yet, but it's clearly about important ideas. Here are some of the chapter titles:
Chapter IV, Home Power
Chapter V, Companionship and Example
Chapter VIII, Leaders of Industry—Inventors and Producers
Chapter IX, Application and Perseverance
Chapter XXII, Companionship of Books
Chapter XXIV, Companionship in Marriage
There are many intriguing sections, such as:
Influence of Music
Elegance of Flowers
Character Above Learning and Wealth
Work and Overwork
Toil, the Best School
Great Results Attained by Simple Means
Power Acquired by Repeated Effort
Character and Freedom
Character and Nations
Knowledge of Physiology
Art in the Home
A Mother's Love
Mothers of the Poets
The Great Musicians
Work and Happiness
National Progress
Caesarism
The sheer breadth and scope of this book reminds me of classics like C.E. Sargent's Our Home, Orrin Woodward's Resolved, or David Brooks' The Social Animal. I'm amazed at how much this book covers.
I still haven't read the book. I'm just getting to know it. Actually, I did start reading the first chapter before I found the items tucked inside. The style of writing is old, and today I had a hard time getting excited about it. After three pages, I began skimming just to see if it was worth the effort. That's when I started discovering treasures tucked between its pages.
What a lesson for life. There are acres of diamonds in our own back yards, and some of the best books in our lives have been on our shelves for a long time. We just need to dust them off and read them.
Is there such a book on your shelf right now? Mightn't it be time to get it down and read it?
This book was given to me years ago. I just happened to pull it off the shelf a few months ago and set it next to the chair where I write. In a relaxing moment, just tonight, I picked it up and started reading.
My interest in reading the book is now piqued. The treasures tucked between the pages have inspired me to find the treasures that are surely printed on all 644 pages.
I can't wait to read it. But I'm not done studying the table of contents yet, and I still have to finish turning each page in search of more treasures.
I find more intriguing subject headings listed in the table of contents:
Art of Seizing Opportunities
Value of Time
Visit to Rome
Genius and Business
Great Men and Business
Martyrs of Science
Persecution of Great Discoverers
Martyrs of Faith
Great Books the Best Society
Great Lessons of Biography
George Washington
Plutarch
There are many more, but I stop reading the table of contents. There are too many exciting topics, and I need to start reading the actual book. But first, I'm going to finish the page-by-page treasure hunt.
It takes me another hour as I keep getting interested in things as I skim through the book. I find a small clipping hidden at page 266, but it is illegible. Disappointed, I keep searching. As I explore, something catches my eye on nearly every page and I stop to briefly read a sentence here and a paragraph there.
For example, I read the following on page 317:
"Professor Moor, when a young man, being too poor to purchase Newton's 'Principia,' borrowed the book, and copied the whole of it with his own hand…"
I find myself nodding my head as my own memories resurface. The book continues:
"A well-known author and publisher, William Chambers, of Edinburgh, speaking before an assemblage of young men in that city, thus briefly described for them his humble beginnings, for their encouragement: 'I stand before you," he said, 'a self-educated man.'"
I find my eyes tearing up. What a great thing to say. Maybe my emotion seems strange to you, but somehow these words really move me. A self-educated man: what an achievement.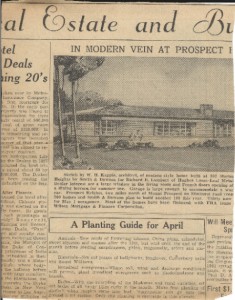 I dab my eyes and keep reading. He goes on to describe his education by candlelight, and I am reminded of Abraham Lincoln. All great education is self-education, I seem to remember writing somewhere. In any case, it's true.
Great reading really does bring us face-to-face with greatness. I skim further. I can't miss any page—there might be another hidden treasure. What will it say?
Eureka! Page 609. Another clipping, but the date and name of the paper are missing.
I compare the print and layout to The Chicago Daily News clippings, and it looks the same.
I read the articles – a Planting Guide for April and an ad for FHA loans.
The reverse side of the clipping is a political cartoon.
Clearly it is from the era before the U.S. entered World War II, probably 1941 like the other clippings.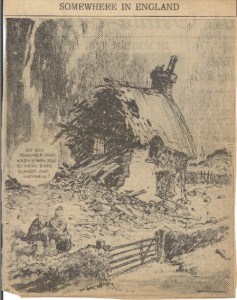 The cartoon caption reads, "Somewhere in England."
The drawing depicts an old man sitting with an old woman in the rubble left after German bombing, their house blasted into a mere shell, their yard a scene of war rubble.
The man looks weary as he says, "Do you remember, Mary, when spring used to mean birds, flowers and happiness."
The mood of the cartoon transfers to me somehow, and I ponder: The spring of 1941.
Probably March or early April. Maybe it's from the same March 21 issue as the other clipping.
In any case, this seems to have been published less than 9 months before Pearl Harbor, American war, struggle, sacrifice. I wonder how many people read this cartoon and did something about it.
The fine print matters. The future of freedom and prosperity depends on it. The old books matter.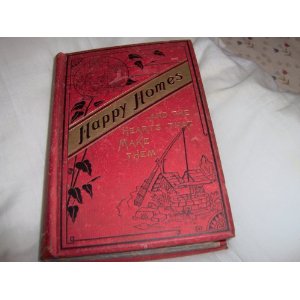 It's time to read the book. By the way, the title is Happy Homes: And the Hearts that Make Them, and the author is Samuel Smiles. I'm so grateful to Laura Bledsoe for giving me this book many years ago.
I still haven't read it.
My perusal has made it clear that this is a book about great things, great ideas, and great people. I'm going to take it slow, like a real classic deserves.
I'm going to milk the meaning out of each and every page. I'm going to savor its wisdom, enjoy learning, and probably, on occasion, disagreeing with this author from over a century past, and I sense that this book is going to stretch my thinking.
I know this, because I've gotten to know this book well enough to be sure it's worth the read. I know I've only begun to uncover its hidden treasures.
I had this same sense, probably just like you did, about Aristotle, Plato and Shakespeare even before I read them.
So, yes, I started to read an old book today. I don't know how long it will take to complete it, but I know I'll read it more than once.
The truly great books are worthy of multiple readings, and I have a feeling about this one. Whoever read it before—that person who marked key passages here and there, who used the book's weight to press a flower and utilized a flower-card from a son as a bookmark, who cut out important messages from the daily paper and thought about big things—has introduced me to this book in a profound way.
I don't know what I'm going to find on this journey, but now I've started. I'm using the same flower card as my bookmark. I too, have been blessed by the lives of Francis's parents. I'm going to read this book, and it's going to make me a better person.
I often read and write with CNN running in the background, and after four hours of this the contrast between tonight's news and this old book couldn't be more stark. Our society needs the old books. We need them desperately.
So, yes, I read reading an old book today. And I'm going to read it again tomorrow. Moreover, I'm going to pay attention and do something about what I read. I hope there are millions of other people doing the same thing tonight, as I sit and read…
This is the second article in a new series by Oliver DeMille on "How To Read the Classics." To read the first article, "A New Way to Read," click here >>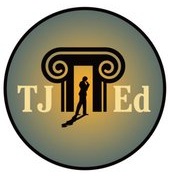 ******************
Featured Article:

TJEd Milestones – Transition to Scholar: The Moment of Becoming

by Rachel DeMille
If you could change anything about you, what would it be? I'm not talking about plastic surgery or losing a few pounds. But seriously, if you could really, truly improve the inner you and become more like your very best self, what would you change? Whatever it is, there's a good chance that if you could go back in time to change it you'd end up dealing with lessons most naturally learned between ages 9 and 14.
This transition from Love of Learning Phase (childhood) to Scholar Phase (youth) is one of the most important facets of a young person's education. Those who transition well during this time will almost invariably have an excellent youth experience; those who do not will likely continue to struggle even into adulthood. Fortunately, this transition is natural and most healthy children will automatically make many of the transitional changes on their own.
The challenge is that parents who were trained on the conveyor belt may not realize what is happening, and may in fact, block, slow or otherwise frustrate this natural process. This is why it is essential for parents to recognize and understand this vital transition in a young person's life.
Transition occurs in most girls between ages nine and twelve and in most boys between eleven and fourteen. Some psychologists speak of this age as the root source of most problems in men, who are often pushed too hard at this age to "put away childish things" and take on adult responsibility. One of the biggest pressures many boys feel at this age is pressure to perform academically. Girls are usually ahead of boys at this age, yet boys are often pushed to keep up to girl "grade levels." And girls can struggle because of the enormous amount of social pressure put on them during this Transition.
Montessori observed: "The middle age crisis signals that the adult is on their way to death; in contrast, transition excitement about learning signals that the child is on their way to life."
J. S. Ross expressed that a "being from another planet, who did not know the human race, could easily take these ten year olds to be the adults of the species; supposing they had not met the real adults."
The vital lessons of Transition, as outlined by Wayne Dyer in What Do You Really Want for Your Children? include:
Take smart risks
Don't put yourself down
Inner Approval: Don't emphasize external measures of success
Don't complain or whine
Don't be judgmental
Never get "bored"
Learn from mistakes
Learn to lose and win well
Practice smart self-reliance
Choose to feel at peace and serene
Realize that life is about smiling
Never fear your own greatness
Consider how important this list of lessons is, and you'll realize just how vital this period is in each young person's life. Leading child developmental psychologists Erik Erikson and Jean Piaget taught that adults can go back and "renegotiate" this phase if they didn't fully learn the lessons, but what parent wouldn't want their children to learn these as youth
The healthy child naturally learns all of these and skills openly or subconsciously—unless they are squashed. Unfortunately, the conveyor belt often rejects Intuitive Thinking and simultaneously over-emphasizes the need for Higher Thinking skills at an early age. To compensate, many young students turn to Memorizing as a way to fake Higher Thinking skills that their brains are unprepared to utilize (and which are developed during puberty). They fail to truly emphasize the vital lessons of Transition and beyond because they get stuck in memorized learning.
Parents can have a significant positive influence on this simply by helping children identify and choose wisely in the Transition. Of course, this starts by not pushing too hard when the child is still learning Intuitive Skills, and in waiting to push higher-order academic subjects until the child's natural maturity has equipped him for Higher Thinking.
When done well, Transition to Scholar is an exciting and wonderful time for a child on the leadership path, and parents largely choose which path the child will take—at least at this point in her life. The right choice can make a huge difference in the education of each child, and in the life mission she will pursue and the success she will have.
Apart from your children's progress, if you want to revisit and renegotiate anything on the list above, it is never too late. In fact, one of the most effective ways to gain (or strengthen) that inner lesson you never quite mastered is to actively help your child through the process.
(More details on how to facilitate Transition to Scholar are found in our book Leadership Education: The Phases of Learning)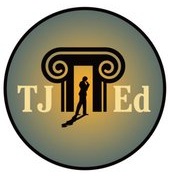 ********************
TJEd NEWS:
2012 Salt Lake TJEd Family Forum
May 4-5, 2012 at the Salt Palace
(For information on the upcoming Texas TJEd Family Forum, Saturday June 2, 2012, click here >>)
For Adult Workshops and concurrent Youth Forum and Love of Learning Children's Activity Center, there's just nothing that compares with being in the same place with over 1000 other TJEders, many with their spouses, youth and children in tow! Inspiring speakers, educational classes, and a social experience that has no equal. Come join us at the TJEd Family Forum!
Last month I posted a query on Facebook to see what past participants might say. In just a few minutes my inbox was filling up with responses! Here's a sampling:
Absolutely loved it! I would recommend it to anyone who needs a shot in the arm as a homeschooler. Last time I attended Nicholeen Peck's presentation on raising a family with self-government, and it changed my whole perspective as a mom. There is such great energy in the gathering, it's worth every cent. I'd love to take my entire fami