Guess what we did??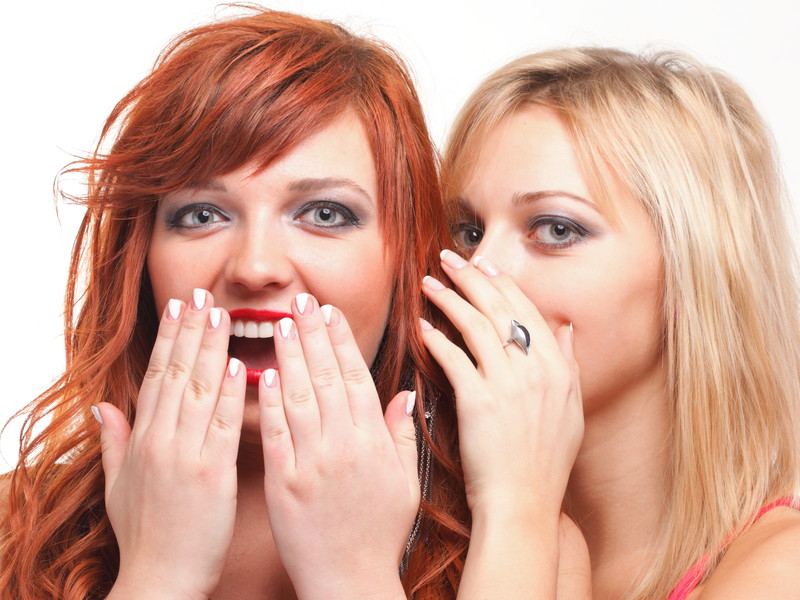 We invited 100 homeschoolers of every stripe to have a look at our This Week in History subscription, and we couldn't have been more tickled about their response! 100 out of 100 gave a very favorable review.
Here's a sampling:
Nicole said:
"I just don't know how this resource could be any better. It is so fun to get this e-mail each week and look at the plethora of suggested activities. And they are RELEVANT which is exactly how I like to teach!!"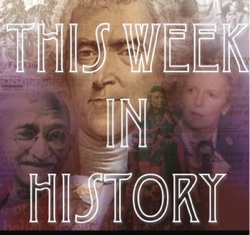 Hope said:
"Our whole family has enjoyed This Week in History from TJEd.org. There are many beautiful photographs and illustrations that keep little (and big!) eyes engaged. The content has always been appropriate and inspiring.
"I am thankful to have the opportunity to expose my family to the well-researched topics in TJEd.org's This Week in History. It is a wonderful, ready to go, quality resource waiting for our family to use.
"We also enjoy the author including personal touches in various lessons, such as adding 'this is a place' she grew up, personal favorite literature books, and so on. Those comments bring the content down to a personal level and provide a connection to the author that we enjoy. 
"We have found some lessons are easier for older students to grasp, some seem geared more for younger students, but they are all adaptable and enjoyable for any age group.
"Do take a peek into the sample weeks provided by TWIH. There's no way I could explain any better than one actually seeing and exploring the product on one's own."
Jan said:
"Topics covered using "This Week in History" include math, science, language skills, geography, current events, the arts, and much more. All subjects covered are tied to events in history. And there's no need to worry that the subject you'd like to study won't be available for the week you need it; you can search by date, topic or keyword to find exactly what you're looking for.
"This is somewhat similar to a today-in-history calendar, but it's really different than any resource I've come across in my years of homeschooling. I started digging around the website right away and I was pretty impressed right from the get-go.
"I found a TON of ways to incorporate TJEd.org into our homeschool easily – and ease is pretty key to maintaining my sanity, I've come to find out!
"In fact, this resource completely fulfills a request of my husband's from a few years back. He wanted me to find a way to eliminate 'down time' when our children's assignments were done, but didn't want to fill that time with busy work.
"His idea was for me to create a binder with activities, reading lists, etc. for the kids to use. I started said binder, but alas my roles of wife-mom-homeschooler-to-five-children-and-all-the-rest stopped me from completing this task. Thomas Jefferson Education makes that idea a solid reality…and it does it with NO extra planning on my part."
Debbie said:
"I've seen a lot of calendars with a "this day in history" feature.  We've had printed ones that hung on our wall for a year. Sometimes, we would actually remember to look at them and read the event for the day. I've seen others online. Generally, they are a single fact or two. Kind of interesting, but we read them and move on.
"Initially, I thought that Thomas Jefferson Education's 'This Week in History' would be the same. Well, I was wrong. I think I've found something that we'll stick with!
"A subscription to 'This Week in History' allows the user to access the weekly information online or in weekly emails. I like the email format because, with the information in my inbox, I'm less likely to forget about using it.
"Each weekly email includes a colorful article for each day of the week.  The articles are accompanied by links to additional information, craft and activity ideas, and so on.  There is honestly almost enough here for it to be a full unit study curriculum!"
Lizzie said:
"This week in history is accessible either on the website or in your inbox as an email! Super convenient and easy to use. I am from a history geek family, so I really enjoy reading the emails and seeing what was happening on that day.
"Often as I read the email, I share with James what event happened that day in history and show him some of the photos or check out the links. As we get into the swing of full time school this fall, I'm looking forward to using it to enhance areas we're currently studying as well as to add in some fun projects.
"Each day is like a unit study already put together for you. Many days include a few links or ideas but many of them include a ton of links and resources. I appreciate having them ready to go so that all I have to do is pick and choose.
"As I read through the emails, I'm impressed with the level of detail and work involved in preparing this resource. It's full of links and ideas. The email is not 'chintzy'.
One of the great things about this resource is that the work is all done for you. Each week features the story and an explanation as well as photos, topics to discuss, links to further information or ideas for projects. All I have to is click, read, and plan which activities to highlight that week. Easy peasy!"

This Week in History is a daily resource that brings your home school or classroom to life!
Whatever you want to learn, whatever there is to teach, it starts with history!
With a subscription to This Week in History, each day's resources are an adventure in math, science, language skills, geography, current events, the arts and so on – all tied to events in history.
For just the price of a single date night, you have the world of learning available to help you lead and inspire your students to explore, learn and and excel! The whole year's archive can be accessed by subscribers at any time.
This Week in History is not only a great value, but a time saver and a worry eliminator. This Week in History:
relieves fear, stress and burnout
energizes your kidschool
fills in the gaps
cultivates cultural literacy
facilitates state or provincial compliance
correlates resources for co-ops, classrooms and family learning
harnesses the power of technology in a classical leadership education
harmonizes with Unschooling, Charlotte Mason, Montessori, Trivium/Quadrivium, IEW, eclectic, etc.
delivers new ideas and areas of learning to you and your child
instigates discussions and projects that expand wisdom and understanding
connects the subject areas–from music to math, from geography to world religions, from hobbies to science projects, etc.
motivates you and your students to greater excellence
delivers Face to Face with Greatness
empowers you to mentor your students in the classics
enlivens the 7 Keys of Great Teaching
activates Phases of Learning
Comments from our Subscribers: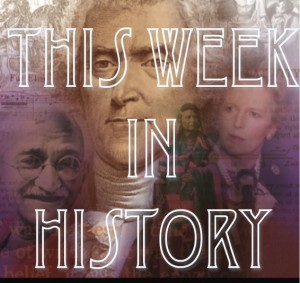 I love Rachel DeMille's, "This Week in History". The other day, my sister-in-law called while I was in the middle of making a sponge cake with my six-year-old son. She could hear all the clatter in the kitchen and asked what I was doing. I told her we were making a sponge cake to celebrate "National Sponge Cake Day"! She laughed and asked, "Where did you learn it was sponge cake day"? So, I told her! "This Week in History."
It's fun, it's easy to use and REMINDS me daily that my job is to "INSPIRE" a love of learning. I'm preparing to introduce John Locke to my boys this Friday! I love it!
~Suzanne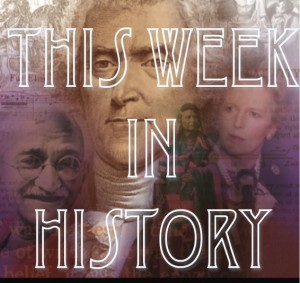 After breakfast, our eleven year old usually says, "Let's see what's for today in History!".  I'm usually very careful about sitting down to browse the Internet especially when the kids are around. But This Week in History has gone into our Favorites folder and is visited very often. We learn and have fun with it. The children are genuinely interested in its contents and look forward to researching further the topic for the day online.
It's a fantastic way to bring technology and history to our homeschool. Thank you for that!
~Merari Sanchez, San Sebastian, Puerto Rico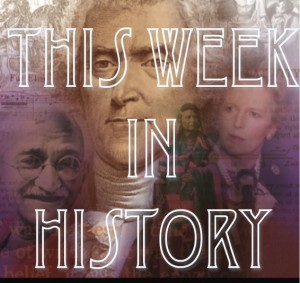 "This Week in History Rocks." So says my 13yr. old! We are loving all the variety. Instead of studying this and that in one grade and something else in another grade, we just study things all over the place and get really into what interests us. I also have four other children who love it too, and I can cater to them and go deeper with the older ones. It is really inspiring. Thanks for this whole new dimension to our lives!
~Ali in California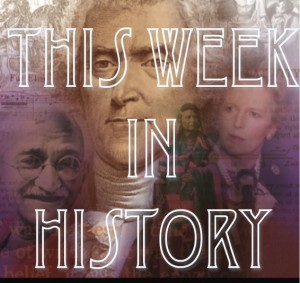 I've invited Rachel DeMille's labor of love and her passion for learning right into my home. I'm never without an idea to inspire, and love the fact that I can quickly access something fun and educational to do with my kids.  And: It has more than one application!
My husband is beginning to use it in the workplace. He manages a large call center for the phone company. He peruses through This Week in History, and determines what he can use to create themes to motivate his employees. My husband and I have also enjoyed some great discussions sparked by Rachel's History site.   Thank you!
~S.M., California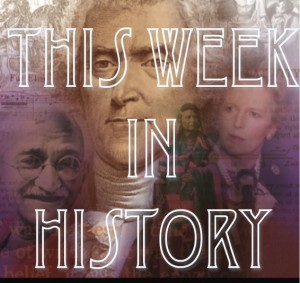 I love This Week in History! I could spend hours on the computer coming up with ideas for kidschool, but instead I quickly read through This Week in History and have wonderful stories and activities to share!
~Hana in Idaho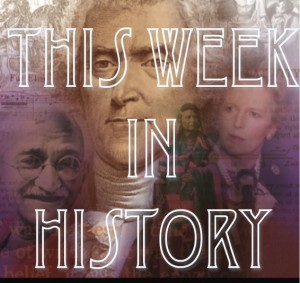 I have subscribed to This Week in History for a couple months now and my family loves it! The resources are so helpful and inspiring. My 3 and 6 year old girls have been inspired by Annie Oakley, Christopher Columbus, Louis Armstrong and Anne Frank to name just a few.
I think this is an unbelievable value and it is well worth the cost. I would recommend it to anyone who is trying to get inspired by greatness. This truly does put you face to face with greatness and it can't help but inspire. Thank you Rachel for doing this and all the work you put into it and spreading the leadership education message. It has changed the course of my family and for that I cannot thank you enough.

~R. Mayfield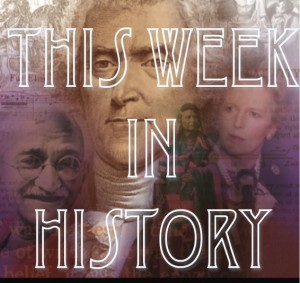 History is such a part of us and it helps us become who we are. It's such a luxury to be able to have bits and pieces right AT MY FINGERTIPS each week. This Week in History helps our homeschool remember holidays in the way they were meant to be remembered, the real "who's" and "what's" of our past as Americans.
For a time we did without This Week in History and I found that we usually didn't take the time to research it on our own; during that time our family missed the devotionals centered around the events and pictures from the past. This Week in History is so "hands-on" and gives our family the edge we need to search out current/past events that teach us so much.
~Ann (mother of 5) in Oregon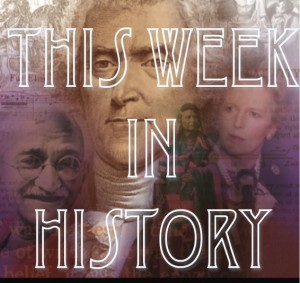 …as I read through This Week in History, I pin-point topics that are interesting to me and then decide on a fun way to share them with my boys. For example, as I recently glanced through next week, I decided that we will be making our own "hotline" out of cans and string and discuss the value of communication in all aspects of our lives; and of course we will be building a skyscraper on Skyscraper Day!! This Week in History has a wealth of ideas that help get my creative juices flowing!!"
~H.F.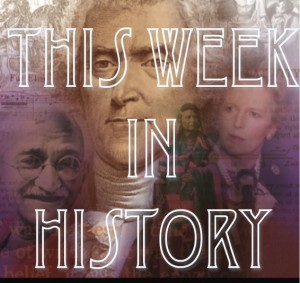 My default is to approach homeschooling from a left-brained model.  I have used factoids to teach in the most inspiring way I could…but I have not done "subject gymnastics" [Rachel's term for the way she leaps from one topic/discipline to another, creating abstract and meaningful connections] effectively.  Particularly in the areas of math and science; the humanities are easy. This Week in History makes me think of how I can bring principles of human nature and life into math and into science.
I now understand much better Oliver's talk last year at the Forum about right versus left brain or poet vs analyst.  He used a Genesis scripture to show poetic interpretation and how it could actually alter the cause of freedom.  It was big; I understood it; …but now I own it BECAUSE of This Week in History.
~Kim, (professional educator and homeschooling mother of 7), Utah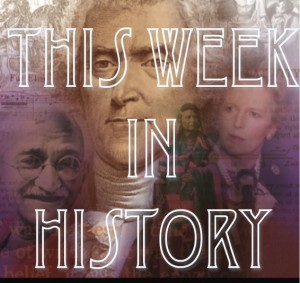 I just got started on the site, and I love it already. As a home school mom sometimes it's hard to come up with ideas for study. I decided to use This Week in History as a spring board for my younger children especially. I took my ten year old and started looking through the week and found the day and week we were on and WOW, he loved it. We navigated through the links for the extra things to use to reinforce the days topic and couldn't stop. We found links for games, stories, and videos. We especially enjoyed Baseball Math. It is now a Bookmarked page on my computer.
We happened to start with the Wright Brothers and planes. We read about them and then found the site for the plane model that the kids can make. We bought the materials together and it is now a "mentor" session activity for my 15 year old son to help my 10 year old son. It is GREAT. The older son is in charge of teaching his brother to follow instructions while allowing him to do his own work at the same time.
Just as a side note, this "project" is now in our "closet" and can be pulled out when the "closet" is opened and it keeps them excited to come back and revisit the topic of planes and how to follow instructions on building a model.
We've really enjoyed This Week in History so far. It's a simple way to get started on history and keep the kids excited with it's wide range of choices for activities and such that go along with the day you're looking at.
~Jodean, California



Another user, after returning from a summer break: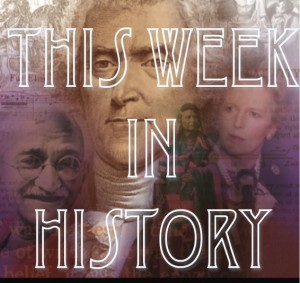 Thank you!! Can't wait to get started! *rubbing hands together with delight* Love, love, love and have totally missed the This Day in History. Your teasers have been getting to me for some time now and I can justify the expense; besides–it's cheaper than most curriculum. 
~Lisa C.