It is truly no hyperbole to say that the choices we make this year will set the stage for the next eighty. Where do you stand?
From the Desk of Rachel DeMille…
I have to tell you about the 2022 TJEd Online Freedom Convention. The Early Bird Discount (35% off!) is still on through 4/17/22, and I didn't want to let this pass without letting you get in on it!
Please take a moment and scroll through the snippets below so you can get a feel for what's offered! And please – let others know about it! It's never been more important to get this information in the hands of good folks, and it's never been more difficult (with algorithms, censoring and throttling of emails and what-not) for us to get the message out! 
Hope to see you in the Discussions! 
Best, rd
---
2022 TJEd Online Freedom Convention
Early Bird Pricing of 35% off through 4/17/22! Sign up now!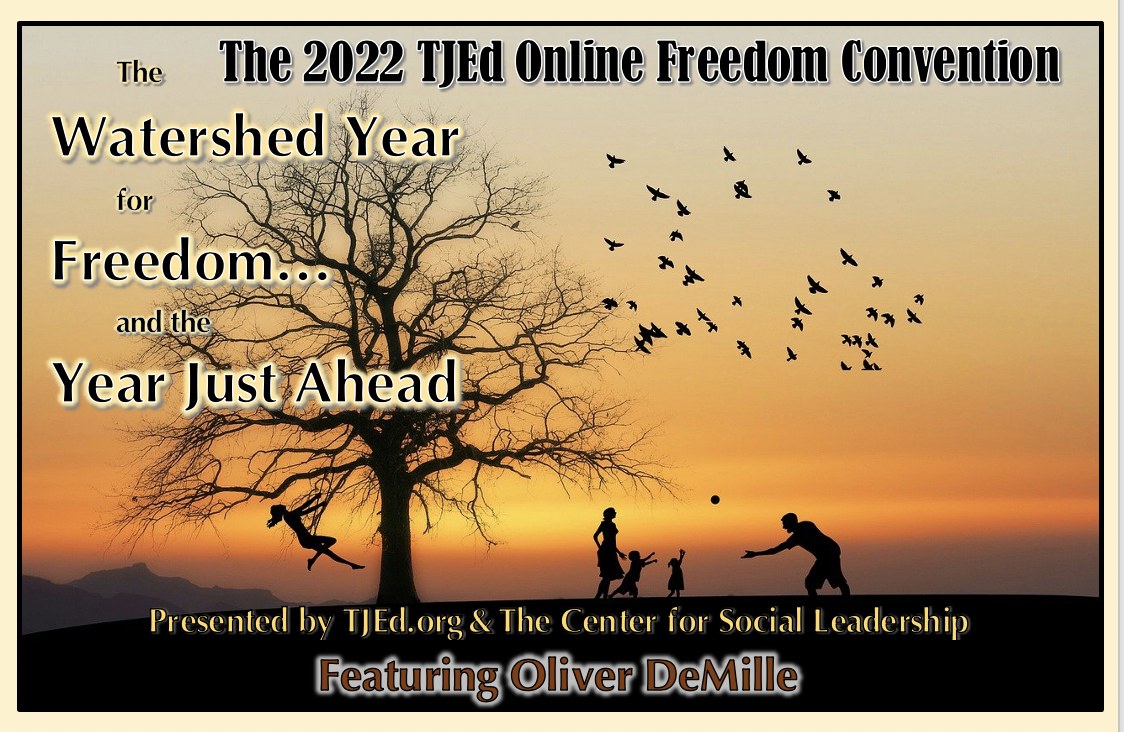 Includes 16+ brand new presentations, tailor-made for our time!
What's included?
Workshop #11 communicates a vision of what the coming First Turning can look like if freedom wins the day. It's right around the corner, and so exciting and empowering!!
Workshop #12 discusses how the 2022 Midterms mark the point of no return on the FreedomShift/ForceShift question.
Here are some other samples:
---
From Workshop #9
By analyzing past First Turning culture and the significant personal and societal elements they have in common, Oliver articulates a vision of our coming years, and reveals that the First Turning is high in energy, empowerment, opportunity and optimism, and the climate for cooperation and progress is ripe for a high trajectory.
What will be the specific experience of each demographic (youth, young adults, middle age, elders) in this time, and what does it mean for you?
---
---
Workshop #13: 2022 Update!
By 2010, Oliver had conducted significant research into the process of 4th Turning decline and crisis, and he created a document enumerating 50 Steps of the Fourth Turning, with commentary.
He later revisited the topic in 2013 with additional commentary on the original 50; then again in 2020.
Specially for this convention, Oliver again responds with commentary and update annotation on the original 50 Steps document, with its shockingly accurate forecasting, and language that takes on a new depth of significance in 2022.
---
From Workshop #10: Special Seminar
What to do When the Other Side Cheats
7 things Jefferson said to do when the Constitution is being violated and/or neglected.
Plus:
The Constitution Hanging by a Thread–and the Effective Response
The Election of 2022: What Almost Nobody Knows About It, and What's Really Going On
The 7-Point Action Plan for Freedom to Win
---
---
Emergency Powers Video Workshop
What are emergency powers? 
Where does the authority come from? 
What should we be looking for during our current crisis? 
What are our next steps? 
We'll dive into the history, the fine print, and how to understand emergency powers today. 
Presented by Ian Cox
---
From Workshop #1: 
What's coming in the next 12 months?

What's really going on?

It's bigger than what we just went through, and almost nobody is ready for it…
Learn about the 27 trends in play right now, how they move society, and how you can sway them, such as:
#6 The Fentanyl invasion
#23 "The Big Sort"
#27 The switch from fact-based to symbolic-based media, academia and political discourse
Join us for the rest of the list, and Oliver's research and commentary on its significance in our near future!
---
---
From Workshop #2:
Learn about the ebbs and flows of freedom and force at play in the U.S. political system from 1800 till now – and the astonishing thing it tells us about our prospects for the next 10 years.
Sample:
1800-1828 Jeffersonian Era: The Age of the Plow and the Pamphlet [Community]

Strong new leader (Thomas Jefferson)

1828-1865 Political Upheaval

Opponent to the Establishment (Andrew Jackson)
Final, weak old-style President (James Buchanan)
New System Leader (Abraham Lincoln)

1860-1890 Carpet Bagger Era: The Age of the Engine and the Newspaper [Corporation]
1890-1932 Political Upheaval

Opponent to the Establishment (Woodrow Wilson)
Final, weak old-style President (Herbert Hoover)
New System Leader (Franklin D. Roosevelt)
Join us to get the rest of this rundown, including Oliver's commentary, current application and future predictions!
---
From Workshop #3:
The 3 Things at our Current Place on the Cycles of History that Can Destroy Freedom
Are We Doomed to Repeat Them? What We Can Do and How to Do It!
Includes:
Charting "The Big Nation Cycle"
The 5 Elements of Decline
The 5 Elements of Reboot
The Roadblocks of Reboot
The Myth of "Normal"
The Fabianist Socialism Strategy in Play Right Now
---
Rachel recently posted on Facebook: 
"JUST: WOW. I edited three audios for the new Freedom Convention today! One enumerated the First Turning Values that will prompt a historic shift toward, and empower us to succeed in, the coming years. The next was SUPER uplifting and encouraging about the time we're in and what it's going to mean. The third (my favorite) reframed my view of the cycles of history, where we are on the timeline, and the generational role my kids have to play. I can't recommend this highly enough! Join us!"
---
Available for Online Access with All Content Streaming On-Demand
/ AND /
Downloadable Audios for You to Keep!
ENROLLMENT
Cost: $35 per household Early Bird Pricing available through 4/17/22; thereafter, $55 per household
Workshops 1 & 2, and Bonus Sessions, available immediately upon enrollment. All other content goes live on 4/15/22, and is available for streaming on demand through 6/30/22.
Enrollment cost includes participation for all members of a single household. Non-household friends and family should purchase their own access.
Cost also includes downloadable mp3 files of all audio presentations. (Video not available for download.)
Special class pricing available for schools. [contact

[email protected]

to inquire]
This content is available through June 30, 2022 on your dashboard in our Learning Platform.