By Oliver DeMille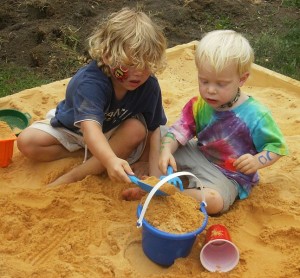 At the beginning of the year I wrote two articles suggesting that the most important thing parents can do during the winter months to help their kids' education was to read important books as a family in the evenings (or in classrooms, during the afternoons).
For parents and teachers in the Southern Hemisphere, now is the time to read and apply those articles!
As the weather warms in the Northern Hemisphere, it is time for a shift.
Family reading is a great year-round project, but the focus in summer weather turns to TJEd's four-letter words.
These words include WORK, PLAY, READ, TALK and LOVE.
There are few things that teach the important lessons of Core Phase as well as working, playing and reading together as a family.
These are all opportunities to show and share love with each child.
And note that everyone is always in Core Phase—we don't ever graduate from a phase, we just add new ones.
That said, it's important to remember that telling our children to "Go work," "Go play," or "Go read," doesn't do the job.
They might obey, but most of the great learning doesn't occur in this model. Instead, the four-letter words that really work are used in a special way: "Let's work," "Let's play," and "Let's read."
Parents and teachers who apply the "Let's work, and play and read" approach will find that their students get a much better education.
And then, after "Let's work and play" is done, it's okay to follow up with "Go play, work and read."
If you are doing it with them, a lot, then you can send them to do it on their own and they'll get much more out of it.
One of the 7 Keys of Great Teaching is "Simple, Not Complex," and it's hard to put more simplicity into education than just making sure you play, work and read a lot with your kids.
Get outside and spend time together doing these things.
This may seem too simple – but it isn't.
Parents and their kids (from toddlers to youth to young adults) doing things together—especially working, playing, talking and reading—does more to effectively educate them and train them to be leaders than anything else.
It really is that simple.
Mow the lawns—together. Go hiking or camping or biking—together. Go to the park—together.
Have a picnic, attend a concert, do a spring cleaning of the whole house, spend a few hours at a beach or in the mountains, organize the kitchen shelves and hall cabinets, and read for a few minutes in the warm evenings before bed.
Do these all together.
And, after each event, sit together and talk informally for a few minutes about what you learned from each experience.
That's right, even a hike or cleaning the kitchen cabinets should be followed by a discussion of what was learned.
This is great education, because people learn by doing.
And when they talk about what they learned, the lessons last longer.
If they aren't learning much while cleaning the kitchen, start talking more while you work. Tell stories from your childhood, or other life experiences.
Or share things you've read about recently.
Ask them questions, or just be quiet and listen to them interact with one another.
This level of learning typically only happens when parents lead out, and when it happens it drastically increases the quality of each young person's education.
It creates thinking skills and habits that improve every part of a child's learning, and it creates memories that bond, connect and reinforce relationships.
All of this is vital to great leadership education.
The sad part is that this is so simple that some people just forget to do it. They don't realize how profoundly this improves their children's education.
To reiterate: Just play, work, and read more—together as a family. That's the TJEd focus for the summer months.
And, to take it to the highest level, follow each experience by talking about it for a few minutes.
Ask each family member what they learned, and then share what you learned.
These small and simple things will make all the difference.
If you want to see your students take huge leaps in their education this coming fall, apply the TJEd four-letter words through the summer—Work, Play, Read, Talk.
The levels of Love will increase, and their educational skills and abilities will deepen and expand.
Plus, this is all fun—for parents as well as the kids.