by Shanalei Anderson
For those of you who love and embrace the educational philosophy taught in Oliver DeMille's A Thomas Jefferson Education, here are some ideas for homeschooling children in the "Core Phase" (up to around age 8 or so)–the years in which children are to develop strong family bonds, a willingness to work, a strength of character, and their Core allegiance to God/Good!
Read the scriptures (or your Core book) out loud as the children play (for family scripture study or Mom's individual scripture study). When the children become seriously interested in learning to read, let them follow along the text as you read. Share your deepest feelings about what you read. Invite the children to share theirs when they are old enough to understand and communicate their feelings about their Core Allegiance.

Memorize scriptures together. (I find it easier to memorize text if I can create a tune to go with the words.)
Have your children (even very young) work along side you, to learn to work and contribute to the household.
Get out into nature! Find a quiet place to stroll with the children. Invite them to pick a solitary place (close to you, however!) to meditate or pray.
Read classic chapter books together as a family.
[See recommended list in
A Thomas Jefferson Education
or
here
. I've read these to my oldest daughter, starting when she was 4 (she's now 6)]. One idea is to have one family member read aloud while the others weed the garden, fold the laundry, etc. Multi-tasking!: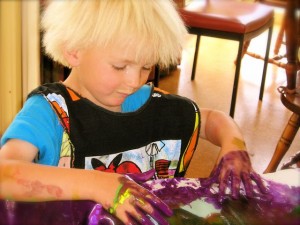 Spend time with your children reading/doing activities from uplifting childrens' magazines.
Sing childrens' songs together at the piano, or with tapes/CDs.
Create family value statements and put them to song. (We have a small but growing repertoire –with lines such as "It's fun to work," "We're very, very careful with our money," "We take care of the things we've got," "We've got the pioneer spirit [the spirit of sacrifice]," "We put things away before starting something new," "Sunday is a special day for us," and ". . . [W]e take pride in our quality work."
Draw pictures and write notes (assisting the children) to be delivered or mailed to neighborhood widows/widowers, extended family, people in prison, the elderly in rest homes, etc.
Carry out family service projects in the neighborhood and community.
Help the children write in their personal journals regularly.
Read the life histories of ancestors. Have pictures of them on the wall of your home and talk about their strengths regularly.
Dress us to dramatize the words and actions of scripture heroes and other admirable people from history.
Role-play daily choices.
Dance together, sing together, play ball or other sports together. Help your children be each others' best friends.
Spend 15 minutes of "special play" with each child daily, letting them decide how you both will spend that time–games? reading? physical play? make believe? (During "special play," do not correct the child. Even if they make comments that are not correct, respond positively–for example: "Oh, you think it's blue. That's interesting." Comment on what they're doing without directing the flow of things.)
Play hymns or other inspiring music for the children to listen to while they color, draw, work with clay, or paint.
Help your children adopt an "empty nester" individual or couple. Encourage the friendships. See if the retirees have a talent or hobby that would interest your children and invite them to be their mentors.
Take your children to visit historical and sacred places. Discuss the significance of the site, its history and the contributions of those who lived, worked, sacrificed and built there.
Help your children learn to earn money and save for purchases (even for friends' birthday presents).
Be very careful about taking your children away from the family to potentially expensive, time-consuming, vanity-producing, and competition-creating lessons/diversions. (Wait till the child expresses a sincere interest in developing a talent. Make sure it doesn't disrupt precious family togetherness, or finances.
Of course, attend church together, have weekly Family Time, daily family prayer, etc.
Enjoy your children! Let them enjoy each other by being daily companions!
Did you notice that "learning to read" isn't the primary focus in these early years?
Resist the temptation in this phase to focus precious time on forcing academics when soul-development is of greatest importance!
In a learning-rich environment where reading is a highly present activity, healthy children will naturally grow into reading when they are ready.
[This list adapted with permission from a blog entry by TJEd Homeschooler Shanalei Anderson]