(and a Fun Invitation…)
Spring Fever Reader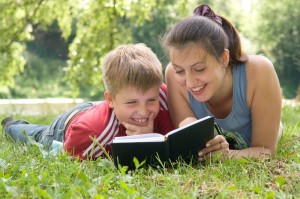 When springtime comes, it's more difficult to keep the kids in their classrooms. They might be there physically, but their minds are increasingly outside in the sunshine, running amidst the flowers, listening to the sounds of birds, and feeling the warm breeze.
And actually – the adults aren't immune to this pull, either!
In the little town where I grew up, nine months of the year were spent attending school, and three months were not. But the months of April and May were, somehow, clearly understood as a "halfway place". Yes, we had to stay in school for a few more weeks, but we were encouraged to lean into summer—meaning that our focus on summer things could increasingly take a higher priority than school.
And what, exactly, was summer about? Not school, certainly. It was about: Playing. Working. Sports. Swimming. Vacation. Fun. All of this was part of it—certainly. But summer, at least in my family, was mainly about Reading.
Not the kind of reading that was assigned by teachers, but the kind you did on your own, for fun, for interest, for excitement.
Jumping In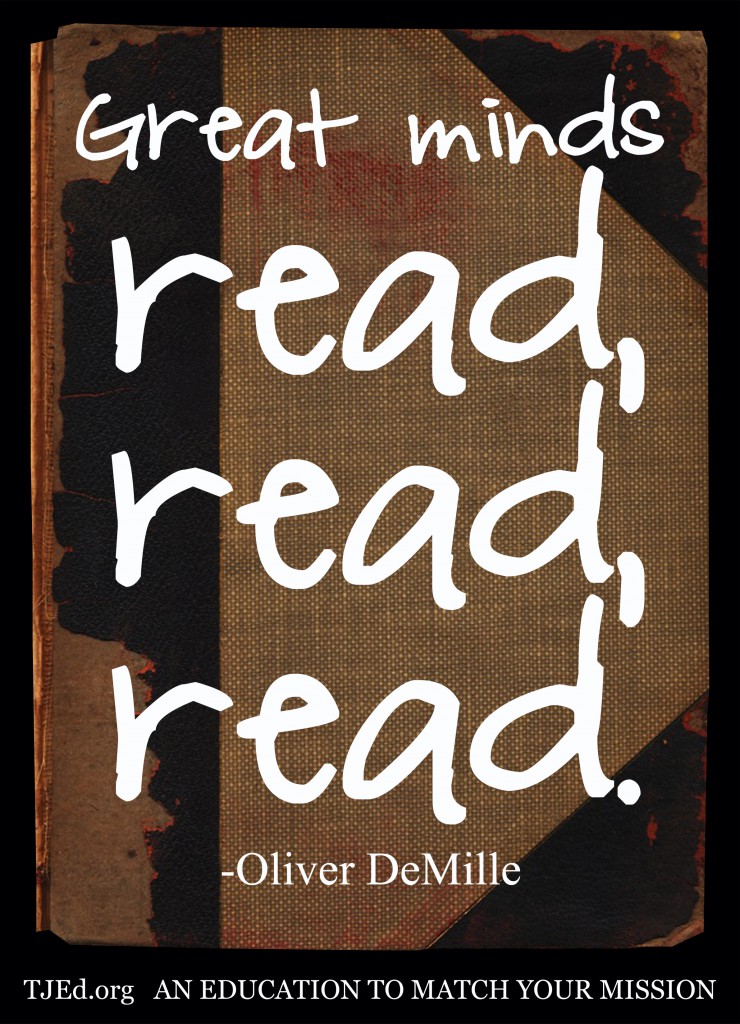 Perhaps not all families approach summer that way…but why not? They could. Maybe even should! 🙂
Think about it. There's nothing more effective for learning than reading a good book in the shade, getting lost for long, hot hours in stories and ideas that bring smiles and deep thoughts.
So, with summer ahead, isn't it time to jump in and get some spring reading done?
For our family that's exactly what it's about. And, this year, we want to invite you to join our family in reading four really great books in the days, weeks, and months just ahead.
You can read others of course, but here are some awesome (and fun) spring and summer classics we're going to tackle this year, in 2015:
APRIL: The Fourth Turning by Strauss & Howe
This is a powerful book about the world we live in, how it is changing in some very important ways, and what it's likely to look like in the next ten years. Once you read it, you'll never view the world the same. It's an easy read, full of important ideas. And if you have any older children or youth in your family (ages 8-18, for example), it teaches about four personality types (based on generations) that will help you understand your kids better—and help them understand you! The discussions you'll have with them will priceless. Plus, it's a really fun book. Of all the books I've quoted over the years, I think this one is at the top of the list, right along with Pride and Prejudice.
MAY: Anne of Green Gables
This is one of the best books ever written on how to mentor girls. If you have a girl in your home (ages 1-18), this is a must! It's deep, and it's fun. It's easy reading, and very enjoyable. The chapters are short—perfect for a quick read in the warm evenings, or read together with your kids for a few minutes during hot afternoons after lunchtime. If you've read this book before, you know that it's so worth re-reading! And if you've never read it, now's the time! It's a great book. If you are a teacher of any kind, including children's main teachers (parents), this is a truly excellent read for you.
JUNE: Bendigo Shafter by Louis L'Amour
This is one of the best books you'll ever read about how to mentor young men (ages 1-18). It is a fun story, fast paced and full of action. The romance is very sweet and compelling, and it will engage the women and girls as well as boys and men. If you are a dad, this book is a great way to connect with your son(s). It teaches a man's way of getting a great education, growing up, and raising a boy into a man—making it fun for dads. It will teach dads to really mentor their boys more effectively. In fact, it will do the same for moms by helping you get inside your boys' heads and really understanding them. A powerful book! Don't miss it! If you are a teacher of any kind, reading Anne and Bendigo will improve your ability to inspire young people.
JULY: Little Men
This is another great classic, and it builds on Anne of Green Gables and Bendigo Shafter to help parents and teachers mentor both boys and girls. What really works in helping our kids get a great education? And what are the powerful things we can do to create the right environment in our home—the kind of environment that naturally reduces family conflicts and encourages love, support, and positive relationships to flourish? This book is a must read! It's truly enjoyable, fun, and great—for you as an individual, or read as a family together in the heat of summer!
Why and Where
We are reading these specific four books together for a reason: they teach us how to be better parents and mentors, and that's a great focus for summer!
So let me invite you now to make these books part of your great 2015 spring. They will bring a higher sense of life, excitement, and increased learning to your year. Those who read them will experience an improved, more effective learning year than those who don't read such great classics—and we've seen year after year that it will translate to your whole home and family. Join us for this 4-book 2015 reading fiesta. It's going to be a blast!
In my little hometown growing up, my three favorite places to spend summer were the town library (picking out books to read), the city park (reading on the grass in the shade during the hot afternoons), and our back porch (reading on the couch, into the evening and long after dark). We're going to repeat such fun spring and summer reading this year with our family, using these four great books, and we invite you along on this exciting journey through these books!
Action Items:
Own your copy of the book! These are great additions to your family library, and worth returning to over and over.
Read with a pen in hand, and a question, concern or goal in mind. Write in the margins with little symbols (! / ??? / 🙂 ) and underline, circle, star in line with the txt.
In the blank pages and spaces at the back of the book (and in the front as well, as needed) keep a running record of important ideas, listed by page number, such as "64: why relationships fail; 72: little girls' greatest dreams; 99: watch the character rationalize a bad decision
Share what you're reading by blogging, discussing or reading passages aloud that may be of interest to your family
It's no coincidence that these same 4 titles are the upcoming events for our Mentoring in the Classics series!
If you'd like to go in depth and enjoy mentoring and discussion with others who are reading these titles as well, come join us for Mentoring in the Classics >>