Living Inspiration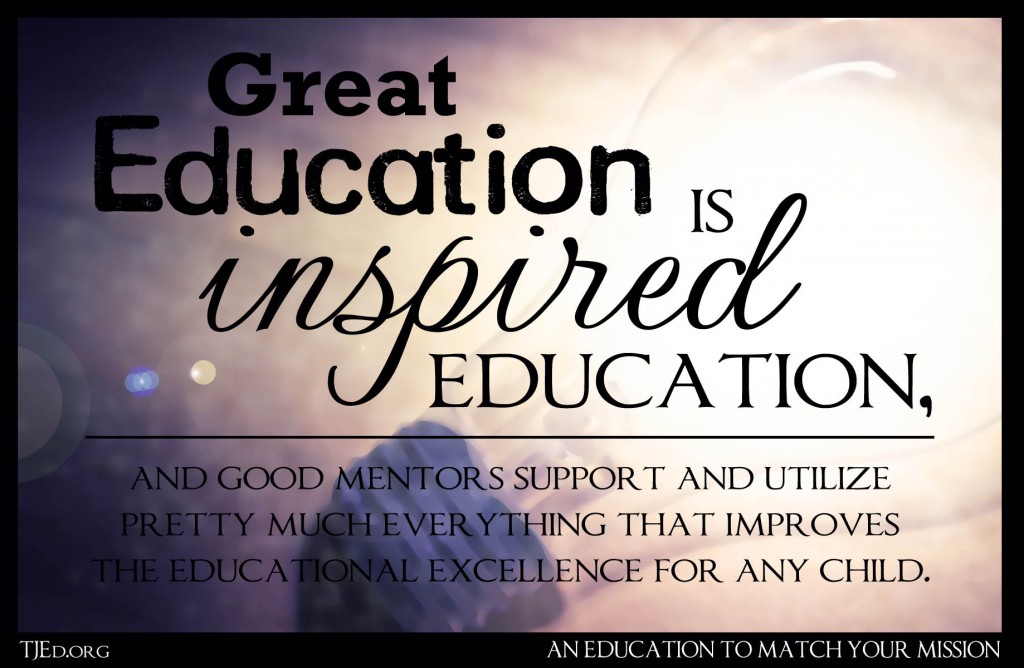 The word "inspire" is one of the most powerful in the English language. It contemplates major improvement, massive personal change, and real societal progress—because when a person is inspired, he does things at a whole new level, frequently in entirely new ways. If not, he's not actually inspired.
One of the great core principles of learning is that inspiration is central. When a person—of any age—is truly inspired, in the flow, deeply connected with the universal, truly "in the groove," so to speak, learning always brings depth, wisdom, punctuated leaps, and even profound epiphanies.
Without this essential part of education, less learning occurs. Indeed, parents, teachers and other mentors and leaders who effectively inspire those they serve are the most important catalysts of great, quality learning. Nothing can take the place of inspiration in education.
With that said, inspiration in learning isn't just lofty, stirring, or memorable. It doesn't only bring shouts of "Eureka!" It is also incredibly basic. Foundational. Fundamental.
Specifically: The root of the word "inspire" is the Latin spirare, which means, simply, "to breathe". (See Klaus Schwab, The Fourth Industrial Revolution, 2016, 109) This is incredibly profound. The opposite of inspire is "expire", a synonym for death. Thus to be inspired is to be truly alive. To be breathing.
An old ad for a respiratory therapy stated: "When you can't breathe…nothing else matters."
Words to deeply ponder.
Freeing Inspiration
The root meaning of "inspire" applies to education in a direct and breathtaking way. How often does the system modern society uses to deliver schooling actually lead to the opposite of inspiration? For example, many people describe graduating from high school as "being free—finally being able to breathe, not being stifled anymore."
Put another way: Is the way your child or youth experiences education at all stifling? Or suffocating? Many young people feel this way. More to the point: Is there anything you can do about your child's/teen's education that will make her smile, sit back, and breathe more deeply?
Does she need a change from the way she's been experiencing education? If so, inspiration (real breathing) is lacking. In the martial arts and the healing arts (meditation, Yoga, Tai Chi, etc.,) the focus is frequently on learning to breathe more consciously, more deeply, more often, and with more purpose – to take in the essential, life-giving force that sustains, motivates and empowers us. This is, literally, what inspiring means.
When you as a parent or mentor inspire those you teach and serve, you improve their educational breathing—their connection to truth, goodness, personal purpose, and love of the things that matter most. If this isn't a central part of their learning, their education will suffer. They need to breathe…
They need to be inspired.
Breathing Inspiration
Indeed, this is one of the most important reasons that TJEd and indeed all quality education often emphasizes inspiring over requiring. Requirements that cause constriction, tightening, narrowing, and shrinking of the student's educational breath also trigger constriction, tightening, and shrinking of great learning. They smother the best things about truly quality education.
This doesn't mean that learning shouldn't sometimes be challenging, difficult, even arduous, but rather that such challenges should occur at the right times (less than our current modern educational system demands in Core and Love of Learning, and much more than the modern norm in Scholar and Depth Phases) and in the right ways (with mentors who set the right example and infuse the whole experience with meaning, relevance and purpose.)
After all, running hard—with proper training, rest, and repetition—gets the body in shape, while an out-of-shape body is often out of breath. The right educational exertion, done the right way, improves the mind as well. One way to clearly know if it is being done the right way is if the student is increasingly happy—deeply breathing in the joy of increased knowledge, wisdom, skill and learning just for the love of it.
If this bright, cheery attitude is lacking, breath (inspiration) is too thin. It needs to be boosted—immediately and consistently.
On an even more basic level, students who take a good, deep breath before they read, study, and learn, and breathe well throughout, learn more effectively. Thinking burns up a lot of oxygen. This applies in test-taking as well: Breathing properly and amply during tests is the natural result of consistently breathing well while learning in other ways.
Inspiration
To inspire greatness in learning, teach yourself to notice if a student's current projects, assignments, topics, schedule, or other things about his educational experience and habits are more stifling or liberating. Do they quicken the breath with tension and anxiety, or with anticipation and excitement? Do they cause smiles (naturally lifting the diaphragm), or frowns (weighting down and slowing the diaphragm)?
Over the years as we've promoted the great importance of inspiration in education, and of parents and teachers becoming truly inspiring with every child, teen and student, a lot of people have asked us how to inspire. We've written a lot about it.
But nothing makes it easier than to simply link the word "inspire" and the word "breathing" in your mind.  This is part of Emotional Intelligence, and a great tool for parents, teachers, mentors and leaders. (See Daniel Goleman's bestselling book Emotional Intelligence)
As a mentor, watch how your student is "breathing." This will nearly always tell you her level of feeling inspired. If she needs to be more inspired (and who doesn't? truly!), watch to see how your effort to inspire her influences her breathing. This is a powerful clue about what kind of learning she is experiencing—the kind that stifles her and brings hate of learning, versus the kind that inspires her and catalyzes an even greater love of learning.
Great education, like breathing, brings life, energy, and liveliness—and fuels passion for learning. If learning isn't inspired, your child/student is slowly dying educationally, and at some point he'll be gasping for air—or, in this case, gasping for the kind of learning that has real meaning to him. That matters to him. That he can truly care about.
Breathing is life, and in education inspiration is as important as breathing.